PARTICIPATE IN THE BIFE-SIM 2021, THE EXHIBITION-EVENT OF THE YEAR IN THE FIELD OF FURNITURE, EQUIPMENT AND ACCESSORIES FOR THE WOOD INDUSTRY!
Romexpo in strategic partnership with The Romanian Furniture Manufacturers Association and The Chambers of Commerce and Industry of Romania organizes, between the 23rd – 26th of September 2021, the 30th edition of BIFE – SIM, international trade fair for furniture, equipment and accessories.
Furniture producers, importers and distributors will offer the general public, in the 4 days of the fair, ingenious and practical solutions that can satisfy all the demands of a pleasant interior design. At BIFE-SIM visitors will discover new ways of organizing their furniture according to how much available space they have, the number of people that use it and its position inside the house.
BIFE-SIM - a new start!
The exhibition presents the latest trends in the furniture, decorations, equipment and wood accessories, available both on the Romanian and the international market, from the classical one to the modern one, from sturdy wood to combinations of wood and glass, leather or hand painted.
BIFE-SIM is an opportunity to meet business partners, current and potential customers, opinion leaders in a framework necessary for business dialogue and in a professional environment.
Romexpo and partners support and promote the Romanian business environment, also companies and their development policies by organizing BIFE-SIM.
The six themed lounges will facilitate visitor access to areas that particularly interest them and that will allow them to make informed choices and inspired: Classic Salon, Design Salon, Comfort Lounge, Salon Kitchen, Salon decoration and lighting, Salon Equipment, Machinery, Equipment, Raw Materials and Accessories. BIFE-SIM 2021 encompasses the entire offer of equipment and utility vehicles for the wood industry, designed to increase the effectiveness of the production flow and to implement new technologies. The 2021 edition will also bring practical demonstrations of the producer that will show the visitors the technological processes through which raw wood is transformed into furniture pieces suited for the ambience of every home.
Extra benefits at BIFE-SIM!
To support companies' efforts in gaining and educating customers during this period, Romexpo has lined up with new trends and will provide digital promotion solutions on a virtual platform, specially created for organizing exhibitions in optimum and efficient conditions! The virtual platform is the new component of the event, assuring both national and international accessibility!
Because we wish to organize the 2021 edition in optimum conditions and considering the decisions of the Romanian authorities referring to the fairs and exhibitions sector regulations, we present you the following three possible alternatives of organizing:
1. Organizing BIFE-SIM exhibition indoor, Halls B1- B2 and on the outdoor platforms: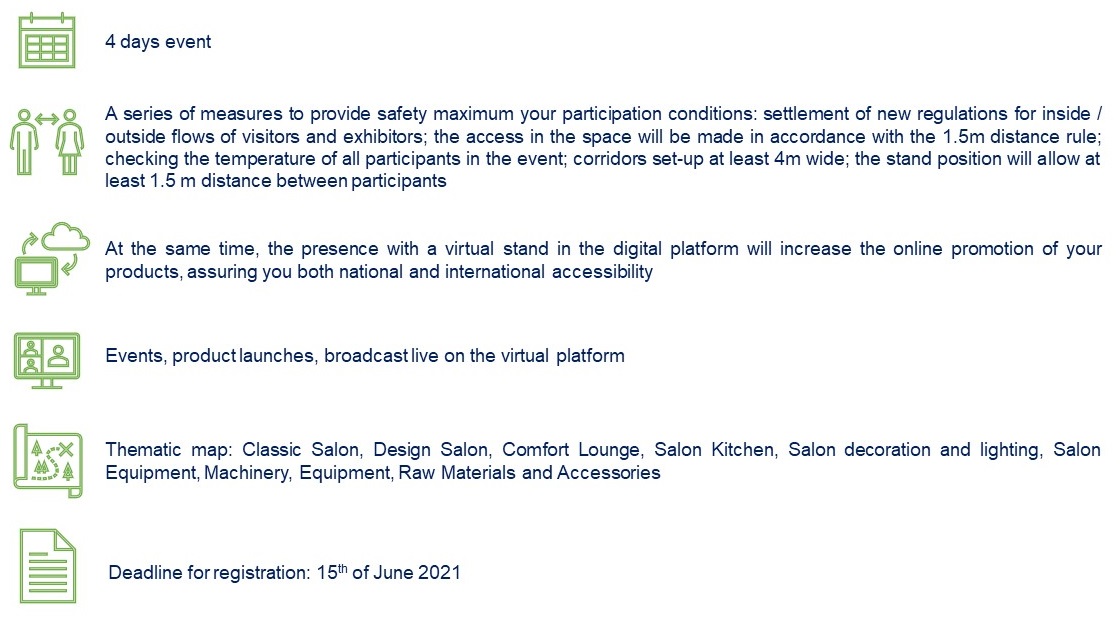 Note: After 15th of June, if the Romanian authorities will decide to up-date restrictions on indoor events, we propose:
2. Organizing BIFE-SIM exhibition on outdoor space (platforms 10 - 11):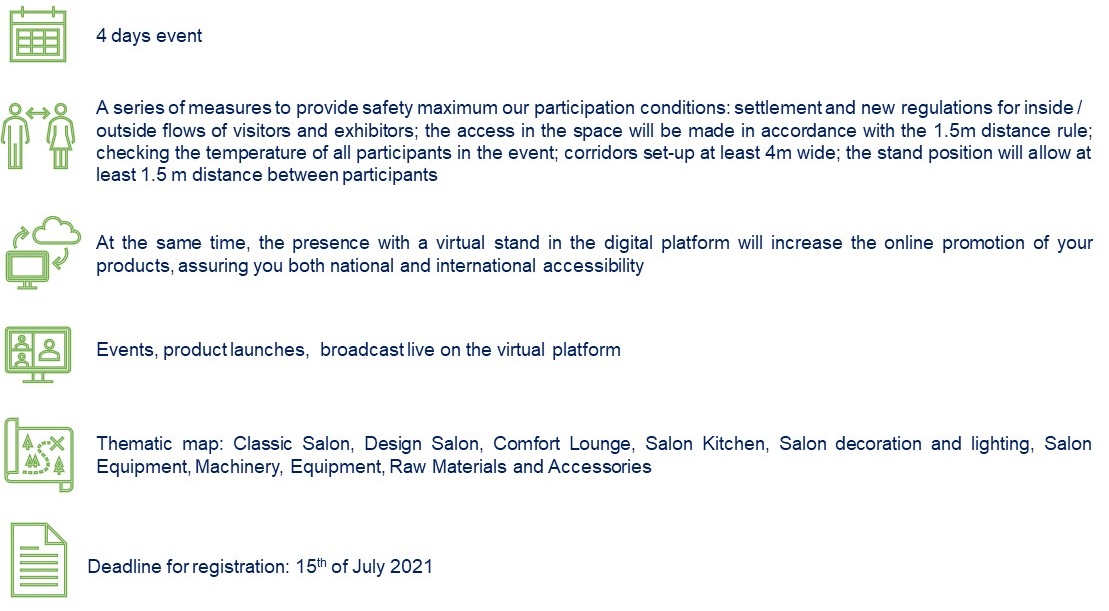 Note: After 15th of July, if the Romanian authorities will decide to up-date restrictions on the organization of exhibitions, fairs and events for indoor and outdoor as well, we propose
3. Organizing BIFE-SIM exhibition exhibition only on the virtual platform: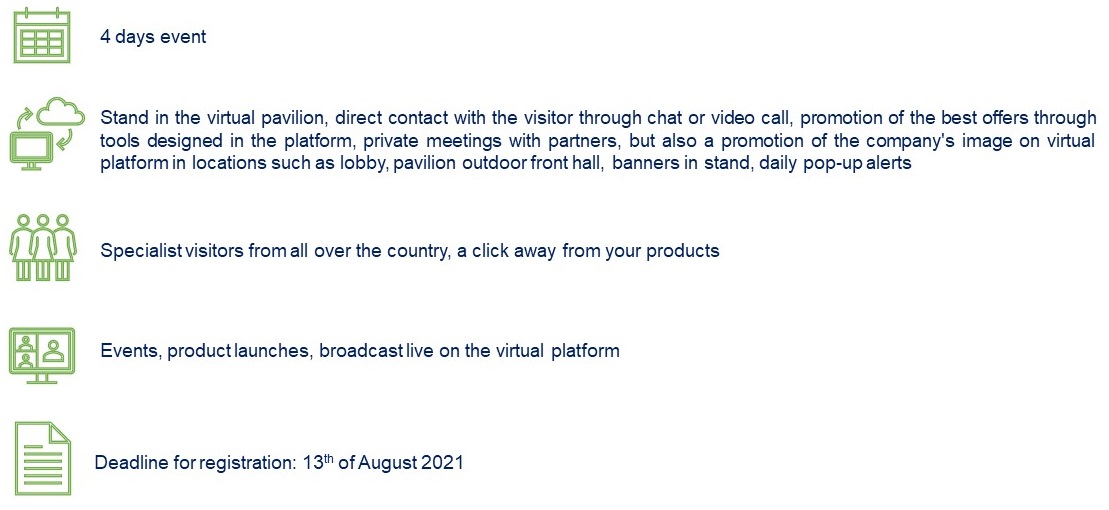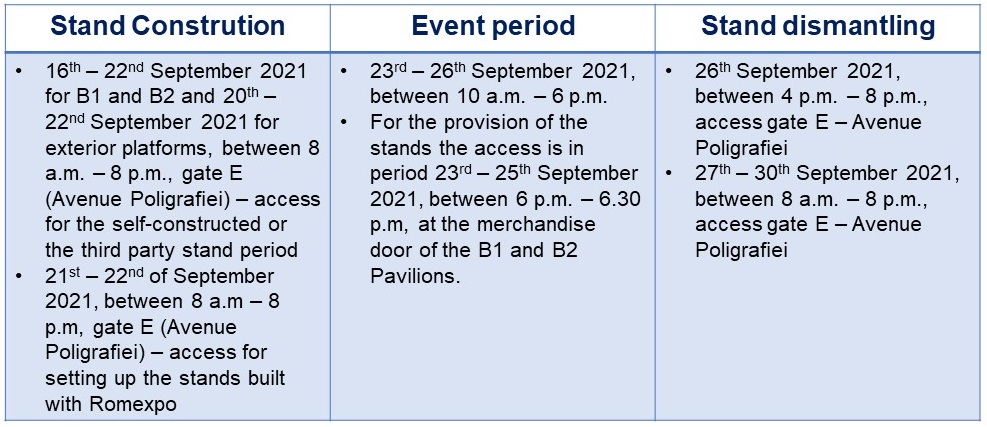 ROMEXPO GENERAL CONDITIONS
For more details regarding the general, technical and participation conditions ROMEXPO click here
For more details about the Cookies Policy of the site click here
For more details regarding the terms and conditions of use of the Romexpo site click here
For more details regarding the protection of personal data click here